A messy home can cause a lot more than stress when couples find themselves constantly arguing over who's turn it is to take out the trash.
When life is busy, it's hard to find time to fit in all the chores on your to-do list that you keep putting off. (I have definitely been there!)
A realistic cleaning schedule for your home management is your answer!
Having a cleaning schedule helps you to manage all the details of getting your house in order. Knowing what you need to clean and when eliminates the overwhelm of all the tasks piling up at once. It'll increase your productivity and eliminate the headache of remembering who did what most recently. Not to mention regular cleaning increases the lifespan of your expensive appliances!
I HAVE to have a cleaning schedule or else I'll just overlook dusting until it becomes a problem. Someday I might outsource our regular cleaning, but until then, I live and breathe by the home management system we've put in place.
These lists are here to help you create your own cleaning schedule! Once you identify the cleaning tasks that you need on your schedule, you'll have a daily, weekly, monthly, quarterly, semi-annually and annual guide to keep you focused.
Daily Cleaning Tasks
Make your bed
Do a load of laundry
Make meals*
Empty/load the dishwasher or hand wash the dishes
Wipe kitchen counters, stove top, and sweep up any crumbs
Take out kitchen trash
Put away the clutter - tidy up mail left out, toys laying around, clothes thrown on the ground, etc
*It takes a lot of work to plan meals and cook. No matter who cooks, we think the time spent should be included as effort made toward your household management.
Weekly Cleaning Tasks
Wipe down bathroom counters
Clean mirrors
Clean toilets
Mop bathroom & kitchen floors
Vacuum
Empty garbages in bathroom, bedrooms, offices, etc
Change bedding
Dust furniture
Wipe out microwave
Toss expired food from the fridge
Meal plan for next week
Take garbage to the curb
Mow the lawn (seasonal)
Monthly Cleaning Tasks
Clean shower and tub
Dust ceiling fans, blinds and vents
Dust baseboards, picture frames and wall ledges
Wipe down kitchen cabinets and fronts of appliances
Check your water softener salt levels
Empty and rinse dishwasher filter
Wipe down outdoor furniture and surfaces
Quarterly Cleaning Tasks
Clean out the fridge and wipe down the shelves
Clean out the freezer
Clean out the pantry of crumbs and toss expired food
Change your furnace filter
Vacuum/sweep under the couches
Wash your pillows and comforter
Clean coffee maker
Clean washing machine
Wash car
Semi Annual Cleaning Tasks
Clean out your oven
Vacuum your mattress
Clean dishwasher
Shake out rugs
Wash and dry stove hood filter
Clean out gutters (best done in spring and fall)
Vacuum car
Annual Cleaning Tasks
Clean windows inside and out at least once per year
Pull out fridge, washing machine and dryer and vacuum behind them
Clean chimney and fireplace
Clean dryer duct
Wipe down walls in high traffic areas
Download our Room by Room Cleaning and Home Maintenance Checklists! We've put all the details into the 10 different areas in your home that need attention. And while you're welcome to take down and dry clean your curtains a few times per year, these lists just contain the realistic tasks you should definitely consider doing.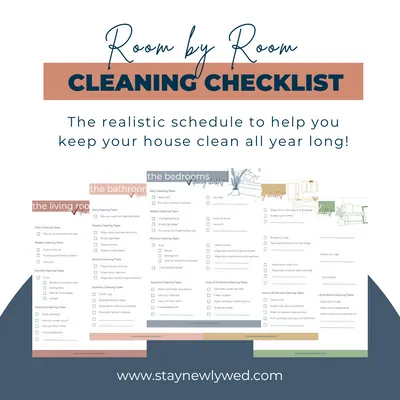 We're loving the ATTITUDE brand of cleaning supplies and household goods.
They work with the EWG to verify that their products are free from the types of ingredients that mess with our health. They tout high performance, vegan and cruelty-free products that are hypoallergenic, kid friendly and safe for sensitive skin. They use less plastic and most of their items are refillable!
They also have product lines for personal care, baby and kids, and pets! Check them out!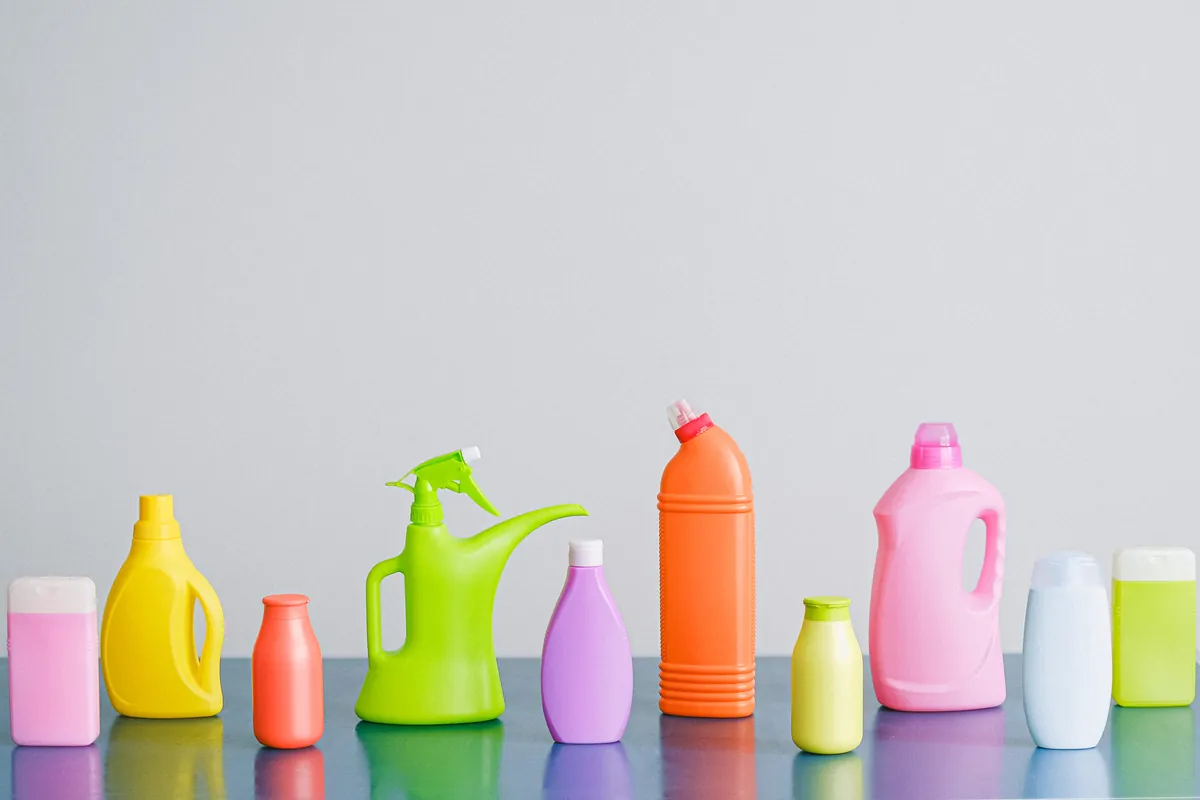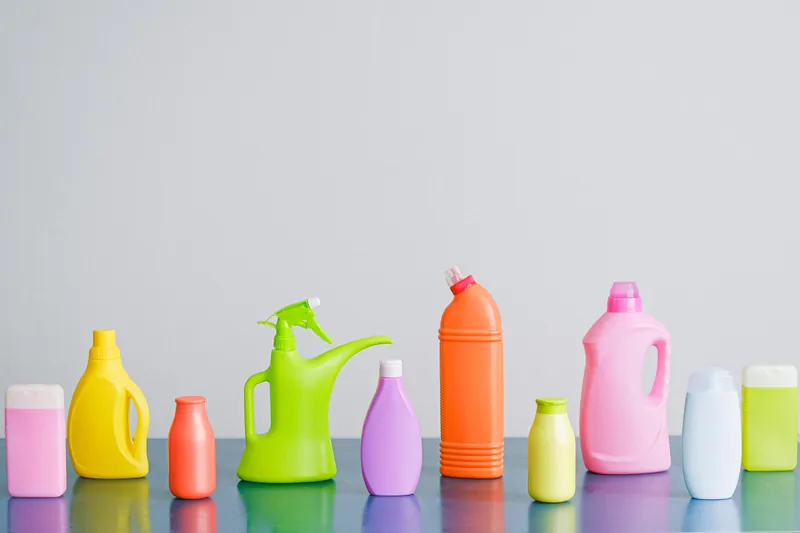 Talk about what a clean home means to you
Unmet expectations are fuel for an argument! Talk about your standards, what works with your current lifestyle and what your priorities are. Maybe you're ok if the master bedroom has laundry piles but you want your living room to be company ready every day.
Set your goals
It's hard to move forward when you don't understand what you're trying to accomplish. Use the priorities and expectations you just talked about to set goals.
Your goal might be to complete all your tasks by 7pm so that you can relax in the evenings. Your goal might also be to get more consistent with cleaning. Anything goes!
Assign cleaning tasks
Every household will divide up their tasks differently. You should consider your work schedules, health and physical ability and if there are little hands that can help. Everyone who lives in the house should be involved in taking care of it.
We both work full-time and our little one isn't old enough to help yet, so we wanted to distribute our cleaning tasks evenly. This is how we did it.
Schedule it
Put it in your planner or schedule it in your digital calendar. You are much more likely to follow through if you've scheduled it!
Start slow
Don't feel like you have to be perfect right out of the gate! Just get started, even if all it is is doing a load of dishes every day so they no longer sit out in the sink. You may do less laundry than we do, so move it from daily to weekly.
Make a list and try it for a week and evaluate what is working and what isn't. Don't forget to download our Free Cleaning and Home Maintenance Checklist! It's a perfect first draft for your cleaning schedule!
Remember, life's gonna get in the way! You won't always be able to follow your cleaning schedule. Give yourself some grace and do what you can. A little cleaning here and there will go a long way!
Next we will tackle MEAL PLANNING! See you soon.